Have a special nerd in your life that would love the ultimate nerdy gift?
A gift of a Lunduke Journal subscription includes:
Full access, for life, to all three sites within The Lunduke Journal family:
Every article, podcast, video, comic, & book published to all three sites.
Full access the community of all three sites.
How to Give a Lifetime Lunduke Journal Subscription
Giving a Lifetime Subscription is a super simple process.
Go to Lunduke.Locals.com/support.
Click "Give Once".
Enter $295 in the editable field, and checkout.
Send an email to "bryan at lunduke.com" and include the following information:

The name and email address of the person (or persons) you would like to gift the subscription to.
Any special message you would like to be included.
And what date you would like the subscription gift to be sent (via email) to the recipient.  (In case you want to schedule the gift to arrive on a particular day.)
Once you've completed those steps, a custom gift card -- in the pixel art style of the comic strips from The Lunduke Journal -- will be created and emailed to you (in case you would like to print it out to deliver it physically).  It will look something like this (each one is unique, but this gives you an idea):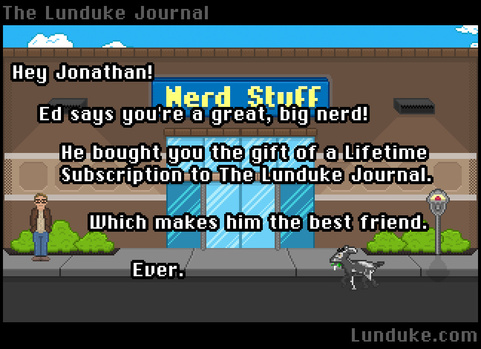 On the date you choose, the recipient of your gift will be emailed the same pixel art gift card -- along with instructions on how to get setup on The Lunduke Journal and receive their gifted Lifetime Subscription.
Simple, right?  
F.A.Q.
Q: Can I give the gift of a Monthly or Yearly subscription?
A: For sure!  It's just not the same crazy deal.  Go to Lunduke.Locals.com and on the right-hand side of the page you will find a "Gift Subscritpion" button.  Because of the differences in how this works -- I can only do the custom pixel art gift card comics (and the access to all three sites) for the Lifetime Subscriptions done using the instructions earlier on this page.
Q: What if I want to send multiple Gift Subscriptions?
A: Simply repeat the process listed above.  Or, if you need to send several gifts, email "bryan at lunduke.com" with the details.  The process can be streamlined.
Q: How long will it take to make the custom, pixel art card?  Can it be done in a hurry?
A: It depends on the day and time of day, but it usually can be ready to send out within one day.  For sure within 48 hours.  If you need it more quickly, email "bryan at lunduke.com" and with your request and it's possible it can be sent more quickly.